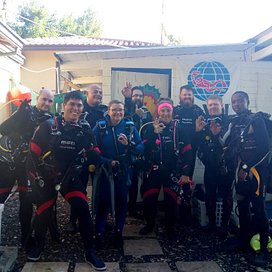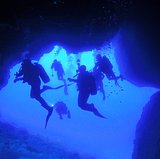 Join our family of divers and non-divers for cookouts, diving, beach/underwater clean-ups and trips to some great locations.
We dive year round and because of the certification levels of our board members, we can promise you a personalized training and diving experience.
Why Become a Member
When you join Sigonella Scuba Club you become part of a community of divers from all over the world. Upon becoming a member, you will receive your new member gift package containing some of our favorite swag. You will also receive 10% off at the local dive shops and a discounted rate on all Sigonella Scuba Club trips for you and your immediate family.
Sigonella Scuba Club is not just a diving club. After all diving in a social activity and we are a community. We have cook-outs, beach clean ups and other events not diving related. Our trips only partially consist of diving. By midday we are back at the resort for lunch followed by an afternoon of siteseeing, lounging by the pool, visiting the spa or other activities.
Becoming a Member
If you'd like to join Sigonella Scuba club, click contact us, join us the third Thursday of every month at the lounge in midtown or email us at SigonellaScubaClub@yahoo.com.
Dues is $10 a month and can be paid quarterly, biannually or annually.
If you'd like to find out more about what we do and what we're about, you can listen to us every Thursday a 1600 on AFN 105.9, or follow us on facebook, instagram and/or twitter at SigonellaScubaClub.
Guests
As a member, immediate family member guests will receive the same discount as you. Guests don't have to dive to go on our trips and receive the same discounts as our members.
All other guest are welcome but will be charged the full rate for dives and trips.
MORE INFO
For more information about diving with us or joining Sigonella Scuba Club, click contact us.