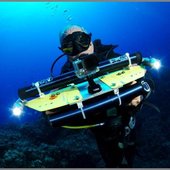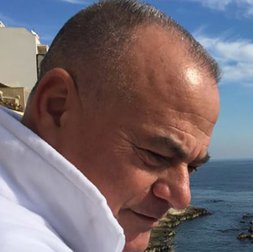 A deep passion for the sea and diving as intense as the depths (His creed is: I am I can I do).
56 years old, Palermo born, Catanese by adoption, interpreter for the American government at the military base in Sigonella, diving professional since 1995. Carmelo, when he was 17 years old, fell victim to a terrible road accident that forced him to remain in a wheelchair for 1 year. On that occasion he decided to dedicate his life to making the sea accessible to the disabled.
La Rocca said: "When I manage to stand up, I gave myself a mission: to bring all the disabled people who want it into the water and teach them to become divers, dedicating all my free time to this activity".
In 2000, the Life Onlus Association was founded together with Martino Florio and other volunteers, which is dedicated to the implementation of initiatives aimed at integrating disadvantaged people, especially disabled and young people at high risk of social exclusion, through sport and training activities. An entire section of the Association is dedicated to diving.
Regaining one's life - explained Carmelo Rocca - after a disabling event is a very important moment. It is the desire to bet on ourselves, and the passion for the sea is the strength of our association.
Carmelo La Rocca conceived and cared for the following happenings with the help of the Volunteers:
1) HSA diving world record for paraplegic subjects
2) HSA diving world record for blind person
3) Inauguration of the tactile path of marine biology presented by a blind diver from the seabed to sighted people on the surface
4) Realization of the first tactile path of underwater archeology in Italy
5) Various water rehabilitation programs with specific training for the disabled disabled and HSA underwater certification recognized nationally and internationally.
After a visit to Malta, he was fascinated by the landscapes and the organization of the island, he proposed to 2 Maltese friends who are socially operational to open a non-profit association LIFE Onlus Malta .
This allows him to share his know-how in Malta to offer disabled Maltese people a more accessible sea and to replicate so many activities in Malta such as creating an underwater tactile path for disabled people and many other activities.
Carmelo La Rocca is the example of how barriers can be broken down despite the difficulties that arise in life.
This is demonstrated by his rebirth (as the Phoenix has risen) by transforming his love for the sea to help people in difficulty and disadvantaged, giving them back the desire to start living a 'normal' life again.
His dream is the creation of an Accessible Academy Boat where he can carry out activities together with the disabled and non-disabled, an itinerant integration center where to welcome disabled and non-disabled people and let him experience the sea to the full in a playful way together with his family and acquaintance 360 degrees. The sea is life, it fascinates with its inhabitants and with its history full of charm and mystery. This must be accessible to everyone.
Our Lead Instructor & Dive Master